About Us
Spanish School Jabel Tinamit is run by married couple Gregorio and Candelaria. That's us, below, with our sons Pablo and Brian. Our language school is the only one in Panajachel that's both Mayan owned and operated. Jabel Tinamit Spanish language school is authorised and registered by the Ministry of Education and the Tourist Commission of Guatemala.
---
Objectives
To promote the teaching of Spanish as a second language through practical, fun and efficient methods, tailored to the needs of each student.
To share the Mayan culture with students from all over the world through the presentation of documentaries and visiting villages of indigenous people. You can study Kakqchiquel one of the Mayan language of Guatemala.
To motivate students to continue to study and practice Spanish when they are at home with online lessons and conversation.
To be a catalyst for change in the lives of the most needy people in rural areas, through our social programs that have been created to help achieve the Millennium Development Goals.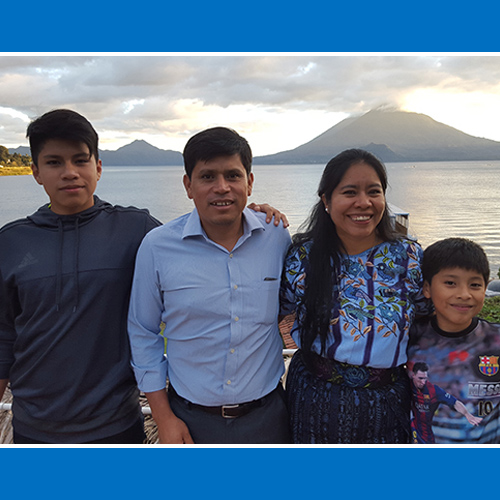 ---
Gregorio
Position - Teacher and manager of the school
Profession - Teacher, business management, network management (hardware and software)
Over 20 years teaching Spanish, managing the school and IT for the online lesson program with special online Spanish teachers.

"I simply asked Gregorio how I would go about visiting a local Mayan site and before I knew it, he had planned it as a school-wide activity!"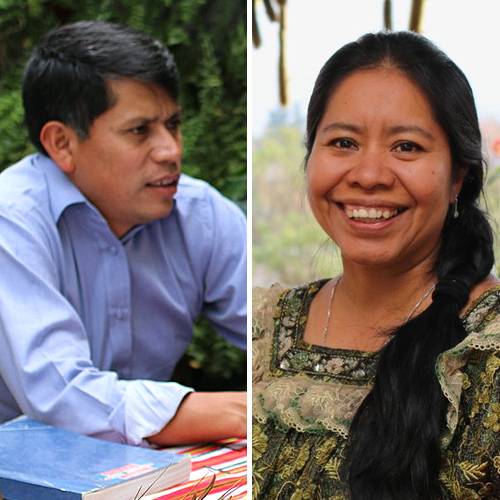 ---
Candelaria
Position - Teacher and manager of the school
Profession - Teacher, social worker, Master Degree in Community Counseling.
Over 20 years teaching and managing the school, Online Spanish Teacher and Founder and Director of the Jabel Tinamit Social Projects called Forjando Mi Mañana.

"Candelaria is so very dedicated to making sure you get the full cultural experience during your time in Guatemala."
---
Our Location
Spanish School Jabel Tinamit is located in the heart of Panajachel, 147 km from Guatemala City. Pana, as most people call it, is on the shore of Lago de Atitlan, one of the world's most spectacular natural environments. From the beach, a few minutes walk from our school, you can see no less than three towering volcanoes: Vulcan San Pedro, Vulcan Toliman and Vulcan Atitlan.

We are in the centre of Panajachel very near the main Church. From the main bus stop (which is at the cross roads of Calle Principal and Calle Santander & Avenida de Los Arboles) walk up Avenida de Los Arboles for 2 minutes and we are located just inside the entrance to Callejon Las Armonias, on the right hand side.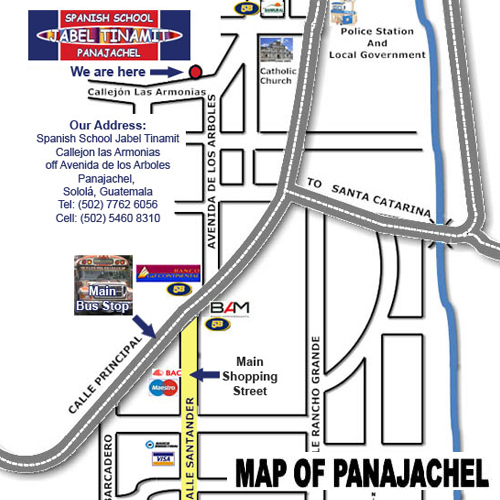 ---
Panajachel
Living and working in Panajachel are Guatemalans of indigenous and Spanish descent. Kakchiquel and Tzutuhil Mayans from the surrounding villages sell all manner of handicrafts in the main street. At the weekends the population swells as visitors from Guatemala City come to relax and get away from it all. For more about our location please click here.

The town always has a bustling atmosphere so there's never a dull moment. We're sure you will enjoy your stay in "Pana" whether it's just a week or for six months.
---
Live & Learn
Many students love the Homestay option where you live with a Guatemalan family in Panjachel and fully immerse yourself in the Spanish language. We can also offer a beautiful rental apartment, a rental house, and many recommendations on other apartments and hotels within a few minutes walk of the school. For more details about accommodation in Panajachel please click here.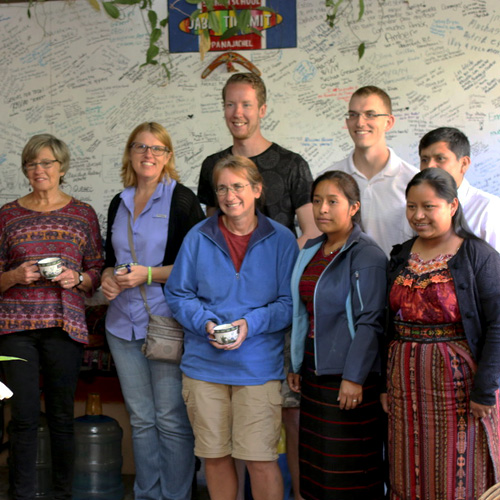 ---
Excellence In Partnerships
Excellence in Partnerships for Student Learning has been created by Portland State University (PSU). Their program, Connecting Educational Communities, takes students to Guatemala every summer to work in Mayan schools. PSU could not do this without the help of our community partner, Jabel Tinamit, a language and service organization located in Panajachel, Guatemala. Spanish School Jabel Tinamit is recognized for helping PSU realize its motto: "Let knowledge serve the city." This organization achieved this by facilitating student learning in a community based context; providing venues for faculty to advance their community-based scholarship; serving as a co-educator with faculty; and suggesting creative ways to work with students and faculty in an educational, community development context.

Jabel Tinamit Spanish School was honored to get the "CERTIFICATE OF EXCELLENCE" from Tripadvisor in 2018.

Jabel Tinamit Spanish School is member of the Guatemalan-Canadian Chamber of Commerce (CAMARA DE COMERCIO Guatemalteco-Canadiense).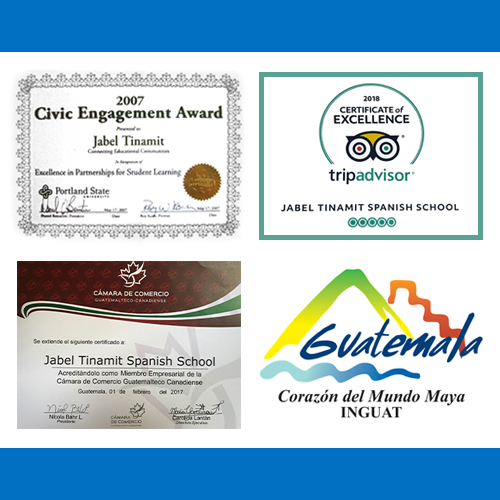 ---
The Story of a Dream
The history of our Spanish school written by Melody Goetz (Canada).

Both Gregorio and Candelaria Xep dreamed of a better life while they were young. As is typical of many Guatemalans, they grew up in large families who had little money, and had no access to education. Although illiterate and unable to help their children financially, their parents had "big hearts", and were supportive of their children's efforts to work and pay for their tuition as they grew up. Though they didn't know each other at that point, Candelaria and Gregorio shared a conviction they purposed to prove - that, despite obstacles faced along the way, education was the key for a better life.

Gregorio started work at 6 years of age - one of eight children in his family, selling small items along the main street of Panajachel. In four years he had saved up 300 Quetzales - about $40 American - and went to school to learn to be a tailor. By eleven years of age, he was a professional tailor; with the money he earned, he was able to pay his tuition, and continue his studies. Hard work and a willingness to sacrifice was fuelled by hope; Gregorio's resolve was strengthened by what his father had taught him, "If you buy land you can lose it, but if you invest in education, in a profession, it will always be with you."

Candelaria: "I have had many challenges in my life, but I think my vision and determination helped me face them one by one. As a Guatemalan woman, I had to struggle against discrimination, and then again because I was indigenous and poor. My mom used to tell me that when I was born, her relatives told her, 'You are not a woman because you didn't have a boy.' Because my mother didn't have access to education, she did not know that it wasn't her fault."

Candelaria's parents sent her to school when she was six, as her parents thought she should know how to read and write. After her third school year, her parents pulled her out of school; relatives had told them that they were foolish to educate a woman, since she was just going to get married anyway, and education was only useful for men. "The day my parents went to enrol my brothers for school my teacher asked, 'Where is Candelaria?' My parents told her that I was going to work at home now, and wouldn't be coming any more. My teacher said, 'That's not possible - she's a good student,' and convinced my parents to keep me in school. In Candelaria's sixth year of school, her parents told her she'd need to pay her own tuition, as her younger siblings were now also studying. Candelaria worked several jobs, and studied in the afternoons. "My dream was always to be a teacher; when I graduated as a teacher, my parents were very happy - they could not believe it, that their daughter was a professional!"

Gregorio and Candelaria met during her internship in his community, where he was interning also. Strengthened by their shared vision, they planned to open their own school, in spite of their lack of financial resources. Candelaria comments, "We had the determination that we will be successful if we worked hard; I believe that our way was made to meet each other!"

Candelaria and Gregorio had studied to be teachers through much sacrifice and effort; still, their road was not easy. Bureaucracy made it difficult to get a job as a teacher in the government, so they decided to direct their studies towards being teachers of Spanish as a second language for foreigners. They discovered that they enjoyed it so much that they wanted to start their own Spanish school, implementing new ideas and methods to make it relevant and successful.

Candelaria says that one of the biggest challenges they faced in starting their Spanish school was, "we looked so young that none would trust us." When they applied for a bank loan, they were told there was no hope, because they had no collateral. In addition, high interest rates (about 31%!) made a loan prohibitive. Meanwhile, one of their German foreign students demonstrated his trust by giving them the loan they needed for two years. Candelaria says, "And so it was that we started with a small amount of money but a big amount of confidence, energy and willpower."

And so, yet another dream was achieved - their Spanish school "Jabel Tinamit" was established in 1998. "Jabel Tinamit" is a name derived from Kakchiquel, a Mayan dialect; it means "Beautiful Town". The Spanish school has room for cooking lessons, a sitting room, a library, internet café, booth for online lessons, and more.

As if there wasn't enough on their plate, during this time, they also began university studies - Gregorio in Administration, and Candelaria in Social Work. With this combination, they hoped to bring together business and community service, as they had experienced first-hand how difficult it was to pursue one's dreams with few financial and educational resources at hand. Continually reflecting their learnings, their Spanish school is growing to include community projects to help children, young people, and women improve their conditions. All of these projects focus on education as the way for development.

Candelaria and Gregorio are happy with the success of their school, recognizing the importance of having experienced teachers and host families in order to provide a great learning experience. Their commitment to paying their host families and teachers a good wage has resulted in an ability to keep the same staff with them since the school opened. An ongoing commitment to learning and innovation - for example, in 2005, Jabel Tinamit became one of the first schools in Guatemala to expand their service to teaching Spanish on-line - means that their school materials are continually being updated, and their services expanding.

Candelaria and Gregorio are committed to seeing hope and possibility where others might see obstacles. They are committed to education, believing that even the very poor in Guatemala can improve the condition of themselves and their family. This hard-won belief is one they have proven in their own life journeys.

We welcome students from around the world, please click here for an introduction to our school in various languages.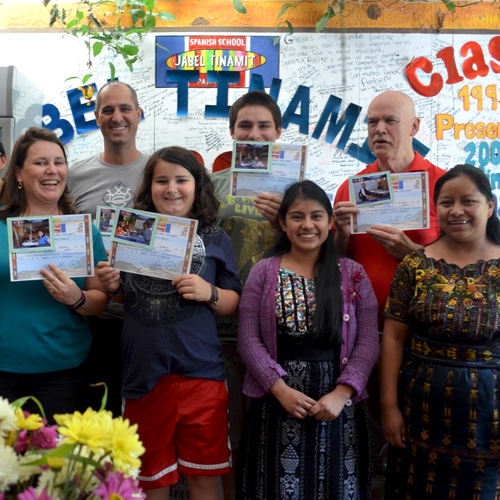 ---