Location
Spanish School Jabel Tinamit is located in the Western Highlands of Guatemala on the shores of beautiful Lake Atitlan. It's a truly spectacular region with Mayan communities living around the lake in the shadow of three volcanoes: Vulcan San Pedro, Vulcan Toliman and Vulcan Atitlan.
---
Panajachel
People from all over the world come to study Spanish in Panajachel. They also come to enjoy the local culture, the food, the bars and, not least, the splendour of Lago de Atitlan. From our school you can actually see all three of the Atitlan volcanoes: Vulcan San Pedro, Vulcan Toliman and Vulcan Atitlan.

Panajachel, or "Pana" as it is called locally, is quite a small town with a very friendly atmosphere. It take about 10 minutes to walk the length of the main street, called Calle Santander. And doing so is quite an experience! It's the heart of the local Mayan commercial activity with all manner of hand made goods for sale including brightly coloured textiles for which Atitlan Mayans are famous.

Spanish School Jabel Tinamit is located at Callejon las Armonias (off Avenida de los Arboles) which is just to the north of Calle Santander, near to the main church. For a street map please click here.

At the weekends the population of Panajachel swells as visitors from Guatemala City come to relax and get away from it all. Downtown Panajachel always has a bustling atmosphere so there's never a dull moment. We're sure you will enjoy your stay with us!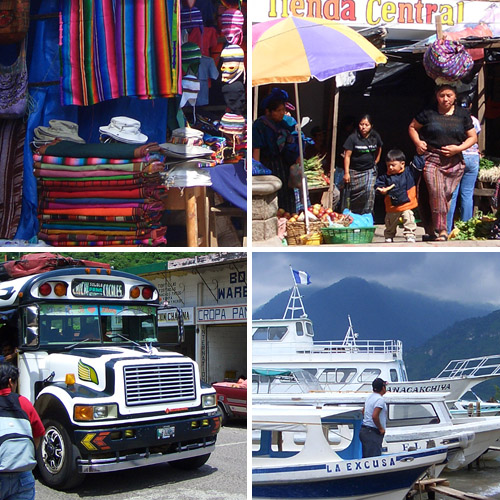 ---
Lake Atitlan
The Lake Atitlan area is home to the indigenous people of the Guatemalan Highlands. Known as the Kakchiquel and Tzutuhil Mayans, their villages surround the lake and the people make and sell all manner of handicrafts in Panajachel. In pre-Columbian times the capital of the Kakchiquel kingdom was Iximche (1470 to 1524). Our school arranges trips to this fascinating archaeological site, for details click here.

Volcan Atitlan has an elevation of 3535m and last erupted in 1853. Volcan Toliman is just a little lower at 3158m. The third volcano is Volcan San Pedro. At 3020m it rises directly from the edge of the lake where the village of San Pedro La Laguna is located. For the adventurous it is possible to climb this volcano with group climbs organised by Spanish School Jabel Tinamit, for details click here.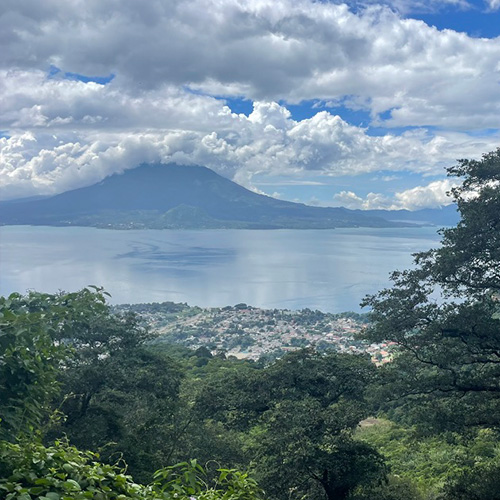 ---
Guatemala
The capital of Guatemala is Guatemala City also known as simply "Guate". It's a large sprawling place of approximately 1 million inhabitants. Over recent years the centre is becoming more tourist friendly however most travellers only use it as a transport hub. Often the first night choice is the nearby town of Antiqua Guatemala (or just "Antigua"). From both you can get a local bus, a direct bus or a taxi to Panajachel. For convenience we provide pre-booked transfer services, for details click here.

Guatemala has a mild climate with seasons split into wet and dry. The dry season in Guatemala is November to April when there is very little rain. In the wet season you can expect heavy rainfall, usually in the afternoons or evenings, lasting a few hours. At this time an umbrella is recommended!

Guatemala is a colourful country, there always seems to be something special going on. At Easter and on Independence Day (September 15) there will be huge street processions, marching bands and throngs of people enjoying the festival atmosphere.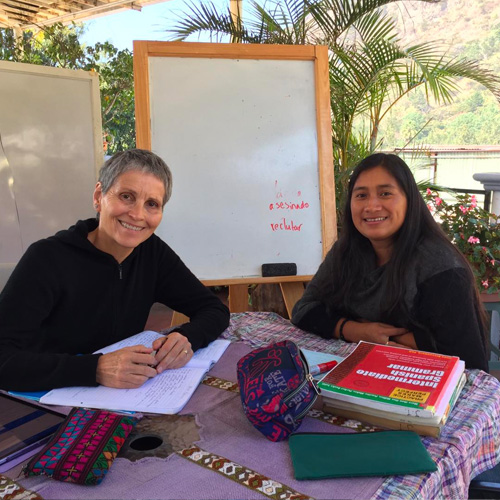 ---