Activities
We organise a wide range of activities and of course you can explore Lake Atitlan by local bus and boat. If you do not have much time but you are very interested in knowing the culture and wonderful places in the area, we offer a special package where you have the opportunity to learn Spanish while interacting with, and learning from, the Mayan culture around the lake. One of our teachers will accompany on your visit as a guide and teacher of Spanish. Check out our online Calendar of Activities.
---
Volunteering
We encourage children and teenagers from the rural villages around Panajachel to reach their full potential. You could assist with conversational English, computer teaching, mathematics or reading. You could participate in a learning centre, help with a Saturday tutorial, or support a student with homework. And it works! A number of our students have achieved scholarships in the USA while others are contributing to the Guatemalan economy by working in technology.

We have our own organization called "Forging My Tomorrow" (Forjando Mi Mañana) and we work with Forma Guatemala which also supports learning in the the Atitlan region. We provide libraries, computers and a reading program to encourage the habit of reading in children and adolescents. Potentially an adult literacy program will be developed too. A population of readers is a population prepared to confront the challenges of modern life.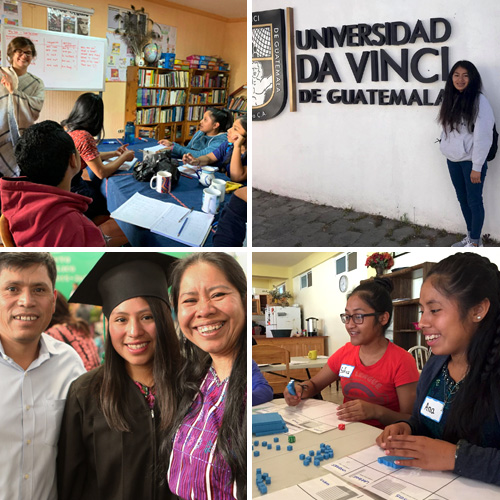 ---
"Forging My Tomorrow"
You are welcome to participate at one of the Learning Centres where you can volunteer by teaching English to beginners, intermediate or advanced students, playing with kids and helping local tutors. We are absolutely sure you will have a very inspiring experience.

You can also help with a generous donation which you can do by PayPal or a personal check and by donating needed items: children's books in Spanish, note books, pencils & pens, games like puzzles & dominoes, toothpaste and toothbrush, crayons, other handicrafts materials, sweaters & jackets, and any kind of shoes. Computers are welcome too - thank you!

This program has verified that a child who reads can share what they learn with their parents (who are illiterate) and thus help cultivate critical thinking and empowerment. This is aimed at training future leaders and therefore an egalitarian society. For more information please visit the Forma Guatemala website.
---
Guatemalan Cuisine
A great opportunity to get to know other students at the school. We organise this activity on Mondays because this is the first day for most of our new students. Besides making new friends we share with our students a variety of Guatemalan dishes including: Pepian, Tamales, Paches, Chuchitos, Rellenitos, and Tamalitos con chipilin. Try your hand at making a traditional Guatemalan dish called Pepian.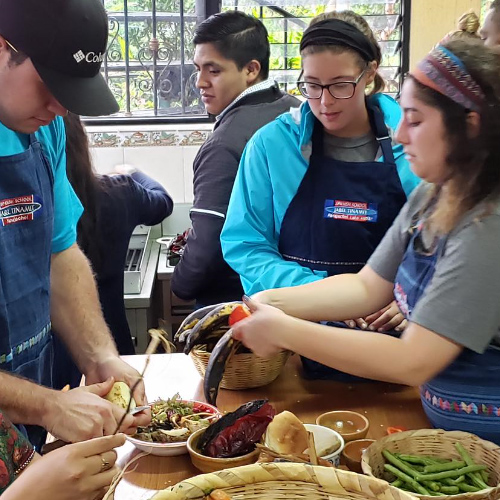 ---
Mayan Cave
Experience local traditions by visiting a Mayan cave in San Jorge La Laguna, and it is been in continual use for at least the past 1000 years. The cave is still a place of ritual and is often adorned with flowers and candles. Animal sacrifices are also made on special religious occasions. Near to Panajachel, you can go by bus, or climb there if you prefer the exercise. During this activity, you will have the chance to see the view of all Panajachel, Lake Atitlan and Volcanoes, it is like a view of 360 degree of the Lake Atitlan.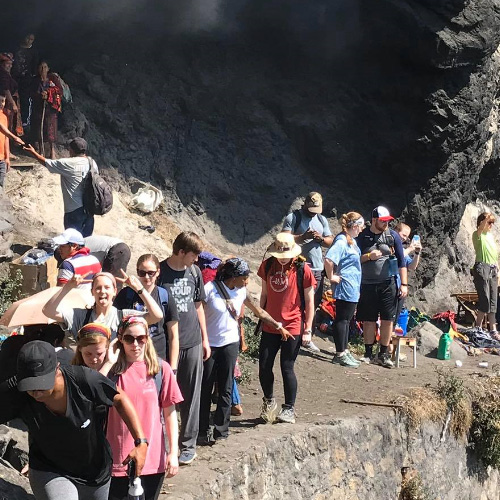 ---
Nature Reserve & Zipline
This local nature reserve has marvellous open enclosures for monkeys, coatimundi, racoons and other wildlife. There is also an observation deck for watching birds and animals in their natural settings. Walking along the trail you will see a long hanging bridge and a beautiful waterfall.
The Zipline offers a totally different experience. Some generate adrenaline at 60 meters (196 ft.) above ground as you experience the moving landscape; others offer striking beauty in the vistas of the volcanoes and the lake. All equipment (harnesses, carabinners, slings, trolleys, etc) has US and European certification, the design and construction of the ziptrek follows international standards for safety and it has been tested with loads that provide wide margins of safety.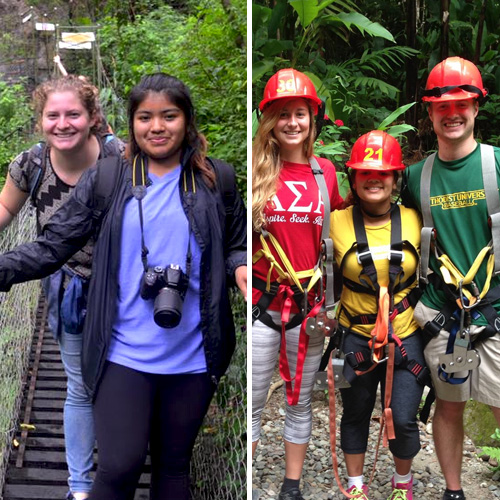 ---
Plant a Fruit Tree
Make your stay in Panajachel even more memorable and friendly with nature by donating one or more fruit trees to an indigenous family in the Rural Area of Lake Atitlan. You can plant the tree yourself on the property of the selected local family. In this way you are not only contributing to the protection of our ecological environment, you are also helping to provide food through the fruit from the trees.
"You can live for two months without food and two weeks without water, but you can live only a few minutes without air. The earth is not an inheritance from our parents, but a loan from our children. Love is the most powerful force in the universe. If there is environmental chaos on the planet it is due to a lack of love for it." Mahatma Gandhi.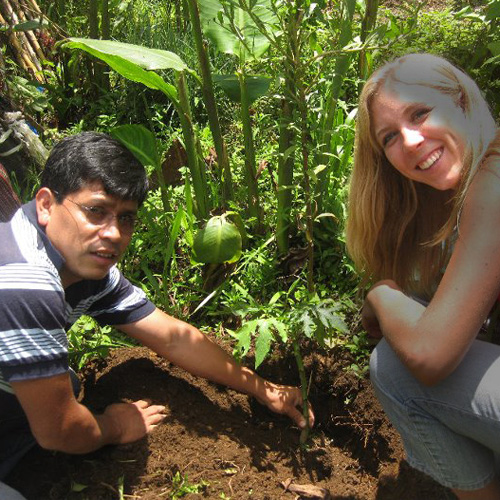 ---
Visit Santiago Atitlan
Santiago Atitlan is a beautiful town across the lake from Panajachel. Visit the church Iglesia Parroquial Santiago Apostol which is dedicated to Santiago Apostol. It was built between 1572 and 1581. Of great interest are two plaques which tell the story of the Martyrs of Santiago: "From mid 1980 until late 1990 the people of Santiago suffered from the violence caused by the thirty six year civil war waged in Guatemala from 1960 to 1996". Check out local weaving with amazing embroidery all done by hand: men wearing trousers with embroidery and women wearing the Guipil (or blouse). A trip to Santiago Atitlan would not be complete without seeing the famous Maximon a local Mayan god. Maximon has granted many favours to many people. When you visit him it is customary to seek his favour, to light a candle, smoke a cigar, or offer him a drink. Finally see the colourful local market.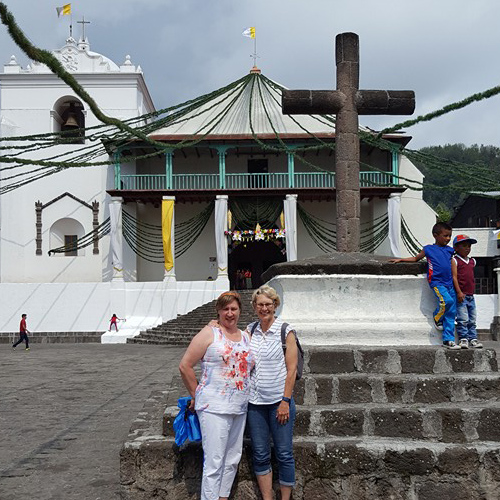 ---
Traditional Weaving
When we have a group of students we organise at the school a presentation of various kinds of weaving by indigenous women from different villages around Panajachel. You will have the opportunity to observe and experience the preparation of these colourful cloths. If you are interested in knowing the culture and wonderful places in Atitlan, we offer this activity to give you the opportunity to learn Spanish while interacting and learning from the Mayan culture.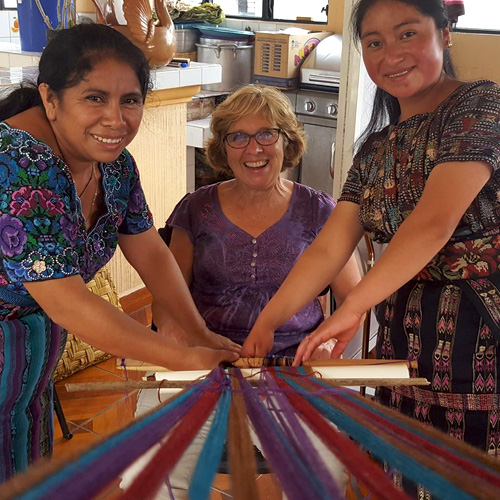 ---
Shopping Trips
At your request other activities may be planned. For example, instead of a formal class you may wish your teacher to accompany you on a shopping trip in Panajachel or a visit to one of the many Mayan villages which boarder the lake.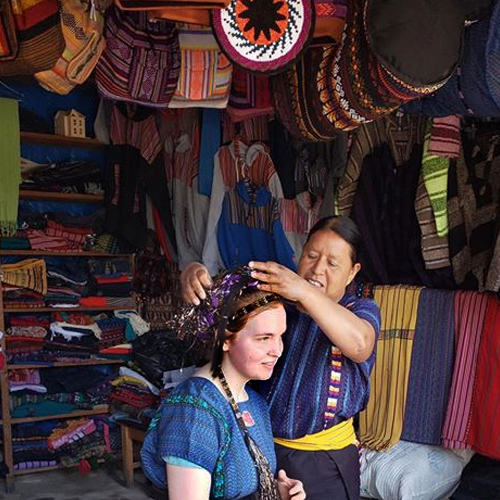 ---
Volcano Climb
For fantastic views of the lake a 3 hour climb will take you to the summit of Volcan San Pedro at 3020m. Returning to the base takes about 2 hours! Normally at weekends, this day trip involves taking a boat across the lake and then making the accent with the help of a local guide. We make a small charge to cover the cost of transportation, entrance fee, and the guide.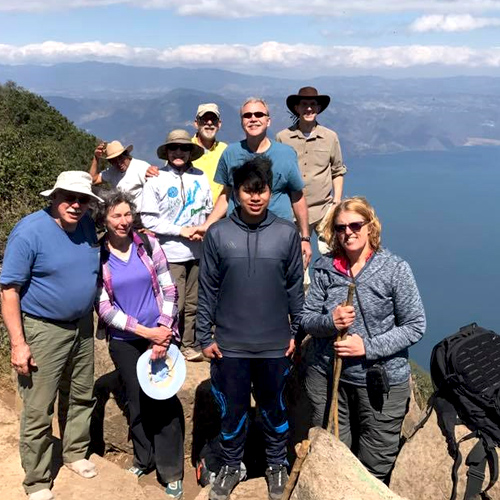 ---
Iximche Archaeological Site
If you don´t have enough time to visit Tikal, no problem, Iximche in Tecpan Guatemala is a fascinating Mayan Ruin. And it's just 1 hour by car from Panajachel. The beautiful town of Tecpan is in the department of Chimaltenango. This site is not as grandiose as Tikal but it is still impressive to see what once was the last capital of the Kakchiquel Maya civilisation and the first Spanish capital. In Iximche you can see the ceremonial centre, a place where the locals have an altar and perform religious rituals. Iximche is surrounded by big trees and lots of vegetation. The good thing about this site is that is very accessible from Panajachel and you can see the whole place in a couple of hours. The Mayan temples, museum, Mayan ceremonies and natural setting makes Tecpan a nice place to visit, especially with one of our teacher from the school.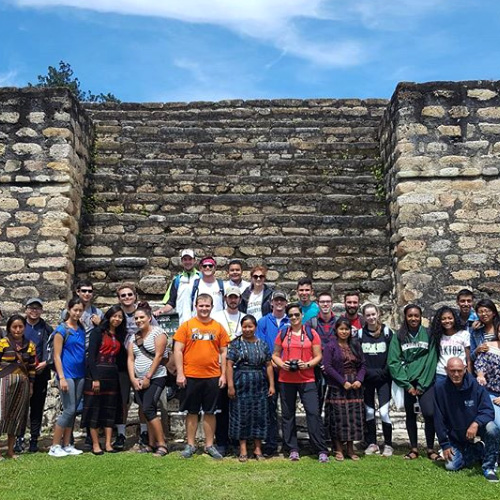 ---
Other Activities
Remote Highland Villages
Get off the beaten track and go where few travellers have gone before. We organise special trips to various villages which, unlike the lake side towns, tourists don't visit. These are highland Mayan villages only a short distance north of Panajachel. It's a very special experience to see places where the local culture is pure and you can still witness the traditional life of the Mayan people of the Atitlan region. Many of the beautiful woven fabrics that are on sale in Panajachel are made in these villages. It is very interesting to see exactly how the weaving is done. As a student of our Spanish school you may join a Highland Village trip as an out-of-class activity.

Chichicastenango
Leaving Pana at 8am and returning at 3pm, every Thursdays and Sundays. In Chichicastenango the main attraction is the market - the biggest in Guatemala. There you can meet indigenous people from many places who come to sell their products, it's very colourful and diverse. The crowds of crafts vendors and tour groups who flock in for the huge Thursday and Sunday markets give the place a much worldlier, commercial atmosphere, but Chichi remains beautiful and interesting, with lots of shamanistic and ceremonial overtones. Mashenos (citizens of Chichicastenango) are famous for their adherence to pre-Christian religious beliefs and ceremonies. The Sunday market, rather than the Thursday one, is best because the cofradías (Mayan religious brotherhoods) often hold processions in and around the church of Santo Tomas on Sundays.

Zumba Classes
Enjoy the Zumbla Classes and have the chance to meet other people from our town. Classes are available on Monday and Friday at 5pm, weekly.

Bike Tours
Many tourists see only the centre of Panajachel but Spanish School Jabel Tinamit staff invite you to explore all sides of Panajachel by bike. You can explore the beach of Panajachel, the Friendship bridge going to Jucanya', the cemetery in Jucanya' (Jucanya' means Across the river), the main bridge build in 1942 in Barrio Norte, the Market and the countryside surrounding Panajachel.

Learn about the "Corn and the ways to use it"
Experience local traditions by visiting a local Mayan family and learn with them: how to plant, harvest, get the corn and see a wide range of dishes you get from the corn and learn the importance of the corn in the Mayan Culture.

Scrabble Contest
Share your time with other students through our Scrabble contest. With this activity you have the opportunity to teach and learn different words in Spanish. Moreover you can interact with other students from other countries.

San Juan La Laguna
Normally we organise a visit to San Juan La Laguna during the weekend. We leave Panajachel at 8am and the trip takes about 4 hours. Once in San Juan La Laguna we visit the brotherhood of Maximón; see the installation where they produce coffee; see the amazing paintings on the walls of the streets; and see a demonstration of the weaving process of cotton. You can be part of the experience, try weaving yourself and see how they get colours from seeds and herbs.

San Antonio Palopo
There are many reasons to visit San Antonio Palopo. One is to see the pretty church perched high above the village. The view from the church it is great - luckily the pick-up truck will take us to the top. This church is dedicated to St Anthony of Padua – the San Antonio of the village's name. A local man once dreamed that he performed a miracle there, installing nets that saved the village from falling boulders during an earthquake. So the church was built in his honour and to ensure his continuing protection of the village. Other things to see are the onion fields covering the steep mountain sides - as soon as you arrive you can smell the onions; you can visit the ceramics factory where you can see how they are made, painted and fired. You can buy one if you want to. Also you can see local Mayan weaving and there's a good chance that you will end up wearing local clothing too.

Godinez Market & Downhill Hike
There is no other place with a better view of Lake Atitlan and Spanish School Jabel Tinamit is the first institution to visit this place. During the hike you will see the real lives of the people, meet local people in traditional clothing, some saying hello to tourist for the first time in their life. We take a pick-up truck from Panajachel to Godinez, we see the market in Godinez, and then start to walk down to San Antonio Palopo. In San Antonio Palopo we see the onion terraces, weaving, ceramics factory and other interesting local sights. Of course, the views and seeing real local life make this trip the best hike in the Panajachel area.

Learn About Guatemala
A great opportunity to practice your Spanish, meet other students and learn about the Guatemalan culture, tradition, gastronomy, Mayan Medicine, geography, flora and faura and other subjects. All students are welcome to this activity.

Cinema: Guatemalan Films & Documentaries
We have our own cinema studio at the school and it is available to all students who wish to watch documentary films about the history of Guatemala and the life of indigenous people. You may also watch your favourite soccer games, and baseball, basketball and rugby matches, or watch movies to improve your Spanish language skills.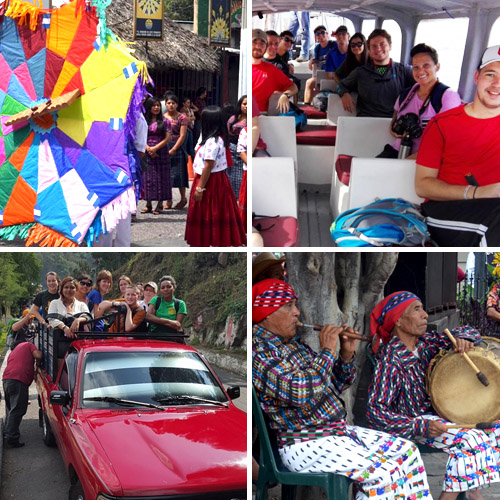 ---